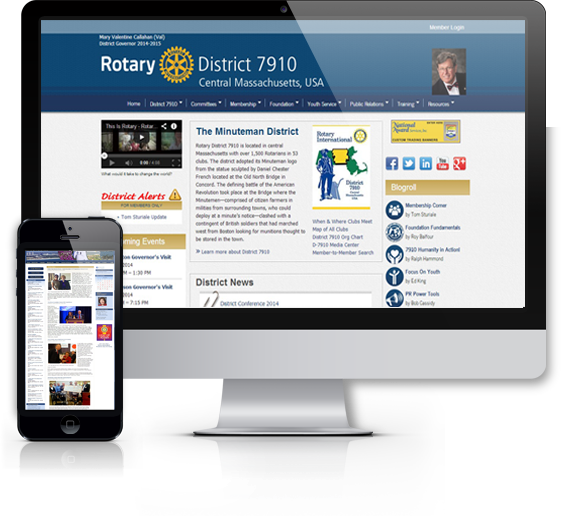 Customized solution for 118 Districts Worldwide and Counting!
As the leading District solution to help Rotarians do their job more efficiently and streamline common processes, we're proud to be able to support Districts worldwide with their Rotary needs.

As of November 2014, we're proud to say that a total of 118 Districts are online with ClubRunner. Over 56% of North American Districts (93 of 166) are ClubRunner subscribers!
The following is a listing of all the Districts online with ClubRunner with more getting ready to make the switch every day!
North America

Rotary District 4110, Mexico (Under Construction)
Rotary District 4130, Mexico (Language: Spanish)
Rotary District 5000, United States
Rotary District 5010, United States
Rotary District 5020, US & Canada
Rotary District 5040, Canada
Rotary District 5050, Canada
Rotary District 5080, US & Canada
Rotary District 5150, United States
Rotary District 5170, United States
Rotary District 5180, United States
Rotary District 5190, United States
Rotary District 5240, United States
Rotary District 5280, United States
Rotary District 5330, United States
Rotary District 5340, United States
Rotary District 5360, Canada
Rotary District 5370, Canada
Rotary District 5390, United States
Rotary District 5400, United States
Rotary District 5440, United States
Rotary District 5450, United States
Rotary District 5470, United States
Rotary District 5490, United States
Rotary District 5500, United States
Rotary District 5520, United States
Rotary District 5550, Canada
Rotary District 5580, United States
Rotary District 5610, United States
Rotary District 5630, United States (CR Database Only)
Rotary District 5650, United States
Rotary District 5670, United States
Rotary District 5690, United States
Rotary District 5710, United States
Rotary District 5730, United States
Rotary District 5750, United States
Rotary District 5770, United States
Rotary District 5790, United States
Rotary District 5810, United States
Rotary District 5830, United States
Rotary District 5840, United States
Rotary District 5870, United States
Rotary District 5890, United States
Rotary District 5910, United States
Rotary District 5930, United States
Rotary District 5950, United States
Rotary District 5970, United States
Rotary District 6000, United States
Rotary District 6040, United States
Rotary District 6270, United States
Rotary District 6290, United States
Rotary District 6310, United States
Rotary District 6330, United States
Rotary District 6380, United States
Rotary District 6420, United States
Rotary District 6440, United States
Rotary District 6540, United States
Rotary District 6630, United States
Rotary District 6650, United States
Rotary District 6820, United States
Rotary District 6840, United States
Rotary District 7000, Puerto Rico
Rotary District 7010, Canada
Rotary District 7040, Canada
Rotary District 7070, Canada
Rotary District 7080, Canada
Rotary District 7090, Canada
Rotary District 7120, United States
Rotary District 7150, United States
Rotary District 7170, United States
Rotary District 7190, United States
Rotary District 7210, United States
Rotary District 7255, United States
Rotary District 7230 (Under Construction)
Rotary District 7280, United States (CR Database Only)
Rotary District 7300, United States
Rotary District 7390, United States
Rotary District 7410, United States
Rotary District 7430, United States
Rotary District 7470, United States
Rotary District 7490, United States
Rotary District 7500, United States
Rotary District 7640, United States
Rotary District 7780, United States
Rotary District 7790, US & Canada
Rotary District 7810, US & Canada
Rotary District 7850, US & Canada (Bilingual: English & French)
Rotary District 7870, United States
Rotary District 7890, United States
Rotary District 7910, United States
Rotary District 7930, United States
Rotary District 7950, United States
Rotary District 7980, United States

Central America and the Caribbean

South America

Europe

Africa

Asia

Australia and Oceania

Rotary District 9465, Australia
Rotary District 9500, South Australia
Rotary District 9640, Australia
Rotary District 9670, Australia
Rotary District 9685, Australia
Rotary District 9700, Australia
Rotary District 9780, Australia
Rotary District 9790, Australia (Under Construction)
Rotary District 9820, Australia
Rotary District 9930, New Zealand (Under Construction)